Sponsored in part by
SMP Press at Sheet Music Plus
and through the generous support of
Evelyn Nussenbaum and Fred Vogelstein
Learn more about our 2018 scholarship program

Congratulations to Wyatt Cannon, winner of the 2017 Victor Salvo Music Composition Scholarship

Advising Composer, Belinda Reynolds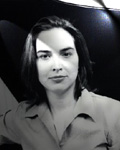 Belinda Reynolds is an active composer, organizer and teacher with a singular passion for bringing new music to a variety of audiences and communities. Her music has been performed in dozens of countries around the world by such groups as The New Millennium Ensemble, US Army's Brass Ensemble, Cecilia Quartet and Da Capo Players, and featured in such venues as Lincoln Center's Great Performer  Series and Weil Recital Hall at Carnegie Hall.   Ms. Reynolds completed her Doctorate at Yale University and received her M.A. and B.A. from the University of California at Berkeley. She is Vice President of the composers' collective Common Sense and runs San Francisco-based HeShe Music, a private studio teaching composition, piano, theory and musicianship to beginners and professionals, many of whom have matriculated to successful careers in music.
 ——
Award Period Closed — Please check back in the spring for the 2018 scholarship call for applications
2017 Call for Applications
Deadline May 1, 2017 midnight
for high school students
Composers and Schools in Concert is pleased to announce the 2017 Composers and Schools in Concert, Victor Salvo Music Composition Scholarship. One high school student will win 5 hours of mentoring sessions with a professional composer plus an ensemble reading by Friction Quartet of the student's work.
CONTEST OUTLINE
Students enter the contest by submitting a video (2 min max) and a copy of a score that is in progress.  The video will describe the draft score and the motivation behind the music as well as provide an idea for where the music is going and why they would like to take part in this program.  Through five mentoring sessions, the draft score will be developed into an excerpt, a section, or a full piece that is ready for a reading session with a professional ensemble.  The composer will assist the student with the development of the piece, notation, and print preparation. The judges are looking for a student with a passion to compose and a desire to learn.
SCORE SUBMISSION CRITERIA
The score must be written for a string quartet (it can be an excerpt or a full score).

The duration must be a minimum of 30 seconds but no longer than 3 minutes

The score can be any genre of music e.g. rock, classical, jazz, etc.

The score must be unpublished and never performed by a professional ensemble

A student may include a part for electronics; however, if a student writes for electronics, s/he must provide the equipment for performance and perform the equipment him or herself
THE STUDENT RECEIVES
The winning student will receive five 60-minute customized mentoring sessions with a professional composer during the period of

June 1 – July 15, 2017

A reading session and feedback from Friction Quartet in mid-July, 2017

Feedback of the performed piece by the composer and the performers
WHO IS THE COMPOSER  
The composer mentor will be paired appropriately with the scholarship recipient based on the student's skill set, style and area of musical focus. Mentors are drawn from the CSIC's member composer roster, which consists of professional composers who are at the top of their field and have applied to work in an educational setting. The composer/student meetings will take place in-person with the guardian's approval.
WHO IS THE ENSEMBLE
"The members of the Friction Quartet — four gifted and alert young string players with roots in the San Francisco Conservatory of Music — seem to have adopted an appropriate name not just for their ensemble, but for an entire vein of musical thought. "  Joshua Kosman, San Francisco Chronicle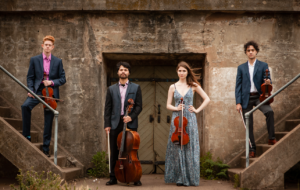 Friction Quartet, whose performances have been called "stunningly passionate" (Calgary Herald) and "chillingly effective" (San Francisco Examiner), exists to expand the string quartet repertoire and audience for adventurous contemporary music through commissioning composers and performing in underserved schools and communities. Joshua Kosman (San Francisco Chronicle) declared that Friction Quartet is "an artist who should be discovered" and described their performance as "high-octane music making…a fine blend of rhythmic ferocity and tonal flair."
Friction is the second place winner of the 2016 Schoenfeld International String Competition Chamber Division in Harbin, China. They recently gave their Carnegie Hall debut as part of the Kronos Quartet Workshop. They also opened for Kronos Quartet at Z Space as part of Kronos's "Under 30″ series. Last summer, they were Quartet in Residence at the New Music for Strings Festival in Aarhus, Denmark. Friction will return to the Shouse Institute at the Great Lakes Chamber Music Festival this June.
Learn more about Friction Quartet
WHO IS ELIGIBLE TO APPLY
Students enrolled in high school during the spring term of 2017.

Students whose permanent address is in the

San Jose-San Francisco-Oakland, CA or Sacramento-Roseville Combined Statistical Area

s as defined

here

Students available for 5 hours of mentoring sessions during the time period of June 1 – July 15, 2017. Sessions will be a combination of online and in person.

Student available for a reading session in San Francisco with the ensemble in mid- July 2017

Students willing to write a one-page summary of the experience after the piece is performed
SUBMISSION DEADLINE
May 1, 2017 at midnight. Winners will be notified by May 5.
HOW TO APPLY
Send an email to  apply@composersandschools.com with the following information:
Please provide the following information in the email:
Use the Subject line "

Scholarship entry"

Address the email to "

Dear CSIC Scholarship Committee"

Provide applicant's information: student's full name; grade level;  phone number;  email address; one high-res image of you (informal is okay!); a bio (max 150 words)

Provide the name and phone number of the person giving the recommendation.

Provide the name, email address and phone number of one of the student's guardian(s)
Please attach the following information in PDF format:
Attach the score

Attach one letter of recommendation

Attach one letter from a guardian stating approval of the mentoring sessions and approval to submit the video

Attach a video or provide website link (max 2 min.)
Frequently Asked Questions 
Is it possible to submit a music composition for piano or other instrument and transcribe it during the mentoring sessions for a string quartet? 
Yes
For questions about this application please contact Lisa Oman, Executive Director at 707-758-7350 or email omanl@composersandschools.com
View and Download