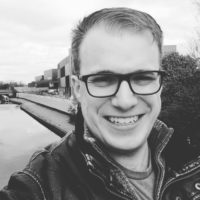 In the fall of 2017, two high school wind ensembles from Pennsylvania will join composer Christopher Cresswell in the creation of an exciting new piece for wind ensemble and electronics made just for them. Cresswell will spend several class periods creating and rehearsing with the students and the ensembles will bring this new piece to life in the spring of 2018.
Central Dauphin High School wind ensemble is under the direction of Matt Carraher and Central Dauphin East High School wind ensemble is under the direction of Curtis Glidewell.

About Chris Cresswell
As a composer, guitarist, and teaching artist, Chris Cresswell has shared the stage with Pulitzer Prize winning poets and top 40 country stars, symphony orchestras and first time musicians. He can usually be found composing new works for artists and ensembles around the globe, helping young people write their first songs, advocating for the arts with Congressional staffers and local school boards, or covering the latest Taylor Swift single at a camp fire.
The 2016-2017 season featured the world premiere of his viola concert, the inner workings of a throat exposed, at the Bozar in Brussels, Belgium and the recording of his chamber work, I find I have less to say, with Decibel at the Real World Studios in Bath, England. He is the founder, artistic director, and guitarist for the 315 Ensemble, who made their debut at the Frontiers Festival in Birmingham, England and are currently recording a studio record, due to come out in the Fall 2017. Upcoming projects include an opera for the Birmingham based organization, Flat White Opera, and a new chamber work for Central New York based organization, Society for New Music.
He has received awards and commissions from around the world, including the America Composers Forum, Jerome Foundation, National Union of Students, The Eden Project, The National Band Association, and the New York State Council for the Arts, among others. His music has been presented by Kathleen Supove's Music with a View, the British Forum for Ethnomusicology/Royal Music Association, the National Student Electronic Music Event (N_SEME), MUSLab (Mexico), Hot Air Music Festival, Rhymes with Opera, and the Foundation for Emerging Technologies and Arts, among others. He has received additional performances at the Bozar, Symphony Hall, the San Francisco Conservatory, San Jose International Short Film Festival, Coney Island Film Festival, Distrito Federal Universidad Autónoma Metropolitana Jardín Sonoro, The Firehouse Space, The National Opera Center, the Tenri Cultural Institute, The Flea Theater, MoMA, and the Kennedy Center. He has held artist residencies with LEAP Ensemble (Birmingham, England), at Estalagem da Ponta do Sol (Portugal), Stone Quarry Hill Art Park, Syracuse University, and Lafayette College.
Learn more about Chris Cresswell
Follow this project on Facebook Events here

#CSICProject