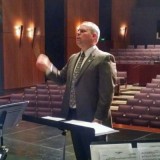 In the fall of 2016, youth string orchestras throughout the country will begin the creation process for an exciting new contemporary piece made just for them by composer Mark Connor.  A nationwide consortium of youth ensembles will bring this new piece to life in the spring of 2017. This new piece will be performed at the Illinois Music Educator's Conference in January, 2017 performed by the Edwardsville High School Orchestra under the direction of Victoria Voumard.
FOLLOW THE PROJECT ON FACEBOOK EVENTS 
PARTICIPATING SCHOOLS 
Alton High School Orchestra
Laura Plummer
Orchestra Director
Alton, IL
Concert Date: Tuesday, February 28, 7:00 pm at Alton 1st Presbyterian Church
Brebeuf Jesuit Camerata Orchestra
Brandon Lee
Director of Bands and Orchestra
Indianapolis, IN
Edwardsville High School Orchestra
Victoria Voumard
Orchestra Director
Edwardsville , IL
Concert Dates: Jan 28, 2017 Illinois Music Educators Conference and Feb 23, 2017  at Edwardsville High School
Little Delaware Youth Ensemble
Uli Speth
Music Director
Oneonta, NY
Concert Date: June 4th, 2017 at 3 pm at Foothills Performing Arts Center in Oneonta, NY.
Sequoia High School String Orchestra
Daniel Broome
Orchestra Director
Redwood City, CA
A #CSICProject
About Mark Connor
Mark J. Connor (b. 1971) is a composer, conductor, and educator whose main focus is writing for concert band, with works appearing on several state lists. His band music has enjoyed performances at several state music educator conferences, including TMEA, and he is published by RWS Music Company and Grand Mesa Music.
Other highlights include performances of his chamber music at the Eastern Music Festival, Carnegie Hall (Weill Recital Hall), the Taliesin Art Centre (Wales), the Royal Welsh College of Music and Drama and the Galway-Mayo Institute of Technology (Ireland). He has had orchestral works performed by the Jacksonville Symphony as part of their Fresh Ink program and the North State Symphony. Mark has been commissioned by, or won awards from, the Jacksonville Symphony, the Eppes String Quartet, the Smoky Mountain Brass Quintet, Composers and Schools in Concert, and the Commission Project. He is also active as an arranger for a wide range of ensembles and genres including works for groups as diverse as guitar ensembles, brass quintet, saxophone trio, and jazz combos.
Mark has been an educator for over 20 years and has taught classes at all levels ranging from junior high school through postgraduate. He is currently the Instructor of Music Theory and Composition at McKendree University and Adjunct Professor of Music at Maryville University of St. Louis. Prior to his arrival in the St. Louis area he was a Visiting Assistant Professor of Music Theory at the Western Carolina University School of Music. From 1997 to 2001 Mark was the director of bands and teacher at Palma High School in Salinas, California.
​
He currently resides in Glen Carbon, Illinois and is married to the cellist Marta Simidtchieva and has two children. His hobbies include martial arts and watching baseball, and he is a second degree black belt in taekwondo.