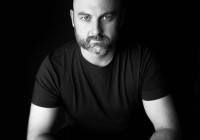 In the fall of 2016, wind bands throughout the country will begin the creation of an exciting new piece made just for them by composer Garrett Hope.  A nationwide consortium of youth ensembles will bring this new piece to life in the spring of 2017.
PARTICIPATING SCHOOLS 
Culver City High School Concert Band
Tony Spano
Director of Music
Culver City, CA
Fullerton, CA
Concert Date: May 25, 2017
Lausanne Collegiate School High School Band
Dorathea Kastanas
Director of Instrumental Music
Memphis, TN
Lincoln East High School Band
Tom Thorpe
Band Director
Lincoln NE
Fullerton Union High School Concert Band
Troy Trimble
Instrumental Music Director
Fullerton, CA
Concert Date: April 26, 2017 at Plummer Auditorium, Fullerton Union High School
FOLLOW THE PROJECT ON FACEBOOK EVENTS
ABOUT GARRETT HOPE
Garrett Hope (b. 1978) was born into a family that valued and practiced music daily. His mother was a primary school music teacher and children's choir director. As a result Garrett has been performing on stages of various sizes and in front many different audiences since he was a toddler. Garrett studied piano, clarinet, guitar, and bass as he was growing up. Though he tinkered with sequencing and song writing it wasn't until he began studying composition at Colorado Christian University and mentoring other students that he found his musical passions—composition and teaching. Uncovering these passions led to the completion of a master's degree from the University of Northern Colorado and a doctorate from the University of Nebraska–Lincoln. Garrett has held positions at several colleges and universities in Colorado, Nebraska, and Pennsylvania. His music has won awards and been performed by school and professional ensembles from coast to coast. He has taught a wide variety of undergraduate and graduate courses, mostly in music theory. Primarily, Garrett loves writing music that engages students and provides meaningful and life-changing musical experiences—the kind of experiences he encountered as a student. As a guest conductor and clinician he visits schools and ensembles across the country helping teachers and ensemble directors meet their classroom goals.When Garrett is not composing (he also scores films), he teaches composers about the business end of writing music through his platform and podcast The Portfolio Composer (www.theportfoliocomposer.com), he tunes pianos, and he continues to teach theory and the history of rock and roll at the University of Nebraska–Lincoln. Garrett resides in Lincoln, NE with his wife and daughter.
A #CSICProject