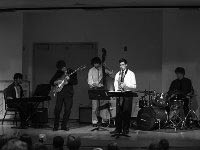 Educator Spotlight: Josh Murray and Max Keisner, Rio Americano High School
The Rio Americano High Band program, of Sacramento, CA, is exemplary and enormously successful, but it's not because they have a lot of funding.
As president of the Rio Americano High Band Booster Club, Joanne Swedlow, puts it, "Rio is not a magnet school, or a charter school, or anything like that.  It's just a perfect storm of talented kids and passionate directors."   CSIC believes there's one more element to that perfect storm, and that element is community involvement; the parents who make up the Rio Americano High Booster Club, and the kids within the program who watch out for each other.  "There are positions on the band board, who track the kids all the way through the program, and present them with photo albums when they graduate." Joanne shares. "Rio has an incredibly active Booster club."    The level of engagement among the Rio Americano band students, and their interest in each others' growth, is remarkable.  Kids put together their own combos, and seek mentorship from the older students.  "It's just part of the culture," says Joanne.  "The older kids teach the younger ones how to work together; how to put together their combos."  Rio Americano band student Emma Hollis expands on that concept, saying, "The environment of band is so positive and loving, we're a huge family. Even though I have only been in band for a year, I have grown so much as a musician, and as a person, and I have made so many close friends from being part of the band program." If there's one thing that Joanne Swedlow hopes readers will take away from this article, it's inspiration to see this caliber of music program in every school, everywhere.   "It's interesting to note that more than 10% of the student body at Rio Americano High School participates in the music program," she adds. Perhaps, taken one school at a time, similar levels of participation and achievement at other schools are not as daunting a prospect to achieve as they may seem, if some of Rio Americano's tactics are applied.
The Rio Americano Band program consists of three programs, Concert Band, Jazz Band, and Instrumental Ensemble, offering students a range of music education and performance opportunities from beginning to advanced levels.  The band program is nationally recognized; the AM Jazz Ensemble was recognized as one the United States' top 15 high school jazz bands at the Essentially Ellington Competition and Festival in New York City in 2001, 2002, 2006, 2007 and in 2010 they came in 5th. The Rio Americano AM Jazz Ensemble has also won the Monterey Jazz Festival in the High School Big Band category an unprecedented seven times. Josh Murray, who along with Max Keisner directs Rio Americano's music programs, describes the mission of these programs thusly: "To use music as a means of helping kids to achieve their full potential as human beings, regardless of what educational or career path they choose. We want to instill creativity, self esteem, work ethic and a sense of personal responsibility in our students. "  Rio Americano student musician and composer Jeric Rocamora adds, "Working with Mr. Murray and Mr. Kiesner is definitely one of the best experiences I'll have, and the education is superb. The musicianship they draw from all the students really shows that anyone can sound good, if they practice hard and put their mind to it." Rio Americano has had dozens of students admitted to conservatories and top music schools, including Berklee School of Music, Eastman School of Music, Oberlin Conservatory, NYU, The New School, USC- Thornton, and the New England Conservatory.  Joanne points out that Josh "teaches the kids how to comport themselves as professional, working musicians."
Rio Americano is set to collaborate with professional composers Omar Thomas and Christopher Caliendo in Composers and Schools in Concert's premiere pilot event, Commissions in Concert 2011.  Student musician Annie Cherchnich shares, "The idea of working with a professional composer is really exciting, because I know that the music will not only be challenging, but cater to our ensemble's instrumentation.  I hope to learn about the composer's inspiration in approaching composition and see how my peers will work together with a new musical perspective. "   She's looking forward to premiering Thomas' new piece, saying, "Knowing that a piece is specifically written for my ensemble makes me take my role in playing and performing (that) much more seriously.  It creates a feeling that because it is written for me, I want the premiere to accurately convey the composer's goal."
"What the kids give to each other… you're not going to get that from technology," shared Laurel Hollis, another Rio Band parent and member of the booster club.  She went on to say that she'd love to see some of the money dedicated to implementation of new technology in the schools dedicated to improvement of existing music programs, instead.  Citing studies that show the correlation between musical studies and high achievement in other areas, Laurel underscored the importance of the arts.  Rio Americano student Jacob Swedlow adds, "Music actually saved my education.  I really didn't like school before I started in the 6th grade.  My elementary school did not have band.  I switched schools in sixth grade so I could go to a middle school that had band.   I thought that even if I hated school, at least I would like band class.  As it turned out, I loved band class and that made me like the rest of school, too.  If it wasn't for the music education at my middle school, I don't know if I would have ever liked school.  Now I'm doing really well in my academic classes as well as my band classes."
So, what's the recipe for success?  It seems to boil down to this: Passionate musical directors.  Talented kids.  A potent sense of family within the program.  And above all, a community of parents and friends who support the student musicians and educators, and who are willing to fight to protect music education.
CSIC is looking forward with great anticipation to Rio Americano's world premiere concert with composers Omar Thomas and Christopher Caliendo, in October of this year.