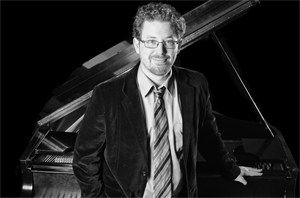 Name: Sunny Knable
Website: www.sunnyknablecomposer.com
State: NY
Primary Genre(s): Contemporary Classical, Contemporary Choral, Jazz
Audio Sample:
Music of the Rails

Biography:
Sunny Knable was raised in a family of artists.  As an adult, he became an award winning composer, classical pianist, jazz player, songwriter, percussionist and educator.  As a composer, he has won three "Best Composition" awards at the  Festival of New American Music , and in 2009, he was the recipient of the  Iron Composers Award  (for which he wrote a 4 minute piece in 5 hours).  His works have been heard throughout the United States and several countries abroad.  After receiving his Bachelors of Music Degree in Composition, Piano Performance and Jazz Studies at California State University Sacramento, he moved to New York City, where he makes his living as a pianist.