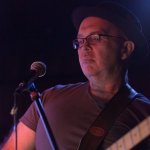 Name: Steve Kirk
Website: www.stevekirkpop.com/music
State: CA
Primary Genre(s): Film/TV/Games/Jazz
Audio Sample:
Pending
Biography: Steve Kirk is a composer of music for multi-media,TV and film. Recent projects include composing Cantina music for the Star Wars MMOL game "TheOther Republic," music for the Disney game version of "The Princess And The Frog," and the FarmVille Theme for Zynga. Before that, Steve composed music for the game "Voodoo Vince" (Microsoft Games). The original soundtrack audio CD, released on the Sumthing Else label, has received rave reviews. Steve teaches guitar and composition privately, and, since 2007, at the Blue Bear School of Music and Community Music Center, both in San Francisco.