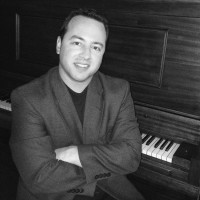 Name: Scott Arcangel
Website: www.scottarcangel.com
State: NY
Primary Genre(s): Jazz
Audio Sample:
What Child is This

Biography: Pianist, composer and arranger Scott Arcangel writes for and performs with a variety of jazz and commercial groups. Based in New York, his music is performed by high school, college, and professional jazz groups, as well as artists around the world.
Scott has studied with the renowned jazz faculty at the University of North Texas and Potsdam's Crane School of Music. He is the former Music Director and Arranger for The West Point Jazz Knights big band, producing several recordings, televised broadcasts, and hundreds of performances.
His recent arrangements have been for Claudio Roditi, The Charleston Jazz Orchestra, The Boston Pops Orchestra, and American Idol's Syesha Mercado.
Scott has extensive experience as a performer and educator, and has presented clinics on arranging, improvisation, and ensemble performance at colleges, festivals, and music conferences ‐ including a presentation of "The Art of the Intro" at the Jazz Education Network's 2016 Conference.