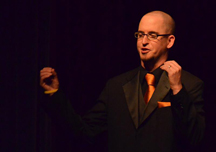 Name: Ryan Keebaugh
Website: www.ryankeebaugh.com
State: VA
Primary Genre(s): Contemporary Classical, Contemporary Choral, Electronics
Audio Sample:
Prismatic Boundaries

Biography:
Ryan Keebaugh (b. 1980) is a composer, conductor, and sound artist residing in Virginia.  Ryan's work in recent years has explored a fusion of natural sonic environments with spectral and monochromatic textures influenced by his interests in the environment, visual art, and spirituality. His work is saturated by themes of stillness, drone, atmosphere, minimalism, and nature.  Ryan's works have been performed by the Great Noise Ensemble, members of the National Symphony Orchestra, the Baltimore Symphony Orchestra, The Catholic University of America Orchestra and Chorus, The Millbrook Concert Choir, The James Wood Concert Choir, pianist Scot Hawkins, Winchester Musica Viva, Bridgewater College Alumni Choir, and many other world class musicians and ensembles.  He has participated in the Fringe Festival, Wilder on Wilder Music Festival, Interlochen Summer Music Festival, and has held residencies at Wildacres Artist Colony, Factory 449 Theatre Collective, Winchester Musica Viva, and Composers & Schools in Concert (CSIC). He has received awards and recognition from ASCAP, the American Prize for Choral Composition, and the Virginia Music Educators Association. Ryan is currently the founder and director of The Clarke County Community Choir, the Director of Music at Grace United Methodist Church, the Director of Choral Activities at Clarke County High School, Adjunct Instructor of Music at Lord Fairfax Community College, Composition Faculty at the Shenandoah Conservatory Arts Academy, and the Founder and Artistic Director of the Frequency: New Music of the Valley , a Northern Virginia mini-music festival featuring works by emerging composers. Ryan studied at Bridgewater College, Interlochen, Shenandoah University, and received his D.M.A. degree from The Catholic University of America.