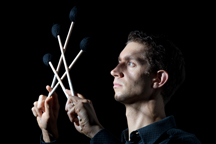 Name: Payton MacDonald
Website: www.paytonmacdonald.com
State: NY
Primary Genre(s): Contemporary Classical
Audio Sample: Pending
Biography: Payton MacDonald (b. 1974, Idaho Falls, Idaho) is a composer/improviser/percussionist/singer. He has created a unique body of work that draws upon his extensive experience with East Indian tabla drumming, American military rudimental drumming, Jazz, European classical music, and the American experimental tradition. He works across multiple musical genres, often at the same time. MacDonald studied music at the University of Michigan and the Eastman School of Music. His composition teachers include Sydney Hodkinson, Robert Morris, Dave Rivello, Bright Sheng, and Augusta Read Thomas. His percussion teachers include John Beck and Michael Udow. Further studies include tabla with Bob Becker and Pandit Sharda Sahai, and Dhrupad vocal with Ramakant Gundecha. The New York Times described him as an "energetic soloist" and The Los Angeles Times described him as an ". . . inventive, stylistically omnivorous composer and gifted performer . . ." MacDonald is an Associate Professor of Music at William Paterson University.