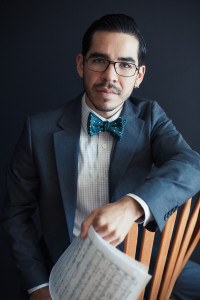 Name: Nick Benavides
Website: www.nickbenavides.com
State: CA
Primary Genre(s): Contemporary Classical, Contemporary Choral
Audio Sample:
Heart We Will Forget Him

Biography: Nick is a composer, performer, organizer, and administrator living in San Francisco, California. Originally from Albuquerque, New Mexico, he grew up singing and playing traditional New Mexican music with his grandfather, an accordionist.
As a composer Nick has worked with some of the most exciting performers in the Bay Area including The Bay Brass, International Orange Chorale, Left Coast Chamber Ensemble, Friction Quartet, the Mobius Trio, and Jarring Sounds. Nick is also the Managing Director of the Left Coast Ensemble.
As the founder and director of the Guerrilla Composers Guild (www.guerrillamusic.org), he promotes new composers and their works by overseeing unique performances and listening parties.  An advocate of music education, he is a passionate supporter and alumni of the Walden School and is an instructor at San Francisco Opera, Academy of Art University, UC Berkeley and Musically Minded Academy in Oakland.
Nick is also a vocalist and a saxophonist, and has performed with companies such as Opera San Jose and the San Francisco Symphony Chorus under conductors such as Michael Tilson Thomas, Charles Dutoit, and Ragnar Bohlin. He has also played, toured, and recorded with various jazz and funk groups across the country, from Boston to San Francisco.
Nick holds degrees from the San Francisco Conservatory of Music (MM) and Santa Clara University (BA).