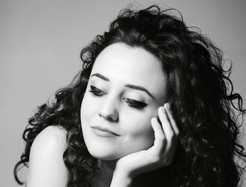 Composer: Moira Lo Bianco
Website: moiralobianco.com
State: NY
Primary Genre(s): Contemporary Classical, Cross-Disciplinary, Jazz
Audio Sample: 
Polaroid 3
Biography: 
Moira Lo Bianco undertook classical piano performance at F. Torrefranca Conservatory in Vibo Valentia, in 2004. Soonafter, she undertook graduate studies at The University of Tor Vergata and completed her Bachelor of Arts with an ethnomusicology thesis on Calabrian folk music and its traditions.
Under the tutelage of Oscar award-winning composer Luis Bacalov, Moira studied film scoring at Siena's Accademia Chigiana. In 2010 she received a scholarship to pursue further studies at Berklee College of Music and graduated with Summa Cum Laude in 2012.
Recently Moira released her first album Lunaria and was nominated "Jazz Artist of the Year" at the 2013 Boston Music Awards.