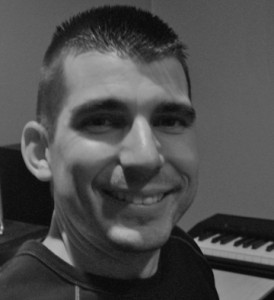 Name: Mike Benoit
Website: mikebenoit.me/mpb
State: NY
Primary Genre(s): Contemporary Classical, Film/TV/Games
Audio Sample: Supernova 
Biography: Michael Benoit was born in 1975 and raised in Northeastern Massachusetts. He  began studying the piano at the age of ten, covering a diverse repertoire ranging  from Bach to Joplin to Bartok. His desire to perform in other ensembles led him  to study the bass trombone, which brought about opportunities playing in wind  ensembles, big bands, and orchestras. A solid foundation in music theory and  ear training, gleaned from his years of study at the Morgan Piano School,  coupled with a burning desire to write his own music, prompted his foray into the  world of composition at a young age.  Michael went on to study composition at the University of Massachusetts at  Amherst in 1993. Over the next four years, he was mentored as a composer by  Robert Stern, Salvatorre Macchia, and Charles Bestor. He was able to hone his  skills by composing works for student recitals, University ensemble concerts, and  student films. He also found his way into the commercial music business by  pursuing composing opportunities with local production houses.  Since completing his education in 1998, Michael has continued his endeavors as  a successful composer. His memberships in ASCAP, the Film Music Network,  and the prestigious Manhattan Producers Alliance have led him to score a  number of films and commercials. In addition to his independent work, he has  also worked extensively with other New York-based composers prominent in the  film and television music industry, including RMI Music, Wonderful, and The Code International.