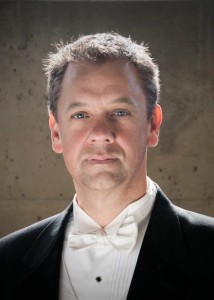 Name: Jim Colonna
Website: www.jimcolonna.com
State: PA
Primary Genre(s): Contemporary Classical
Audio Sample:
Dancing Day

Biography: 
Dr. James Colonna (B. 1970) received his Doctorate of Musical Arts degree from Michigan State University in 2007 where he studied conducting with John Whitwell, John T. Madden and Kevin Sedatole. He is the Director of Instrumental Music at York College of Pa. He served as the director of concert bands at Utah Valley University, the University of Wisconsin‐ Eau Claire, Indiana/Purdue University and Laramie County Community College. Prior to joining the faculty at LCCC, he was a conducting graduate assistant at the University of North Texas where he earned his master of music performance degree in wind conducting with Eugene Corporon. His primary composition teachers include, Cindy McTee, Jack Stamp and Charles Ruggierro.
In 1996, he began his career as a composer and has composed more than 20 original compositions, of which 12 have been published by Larry Daehn Music, C‐Alan Publications, Lovebird and Masters Music. He has received many commissions to create unique works for large concert ensembles, most recently a commission from HAFABRA MUSIC, "To Slip the Surly Bonds of Earth", was recorded by the Royal Symphonic Band of the Belgian Guides, "Dancing Day" was released on the IUP Bands 2012 compact disc and the University of North Dakota commissioned "Psychedelic Suite" based on the late 1960's Beatles music and lyrics. He has also received commissions from the Michigan State University Symphony Band in conjunction with the New England Music Camp titled "7", and a new work to be performed by Mountain View High School for their performance at the Utah Music Educators State Festival. His work, "Fanfare Antiphonal vox Gabrieli", was one of seven featured fanfares by the Dallas Wind Symphony for their 2009‐2010 season. His compositions have been performed at CBDNA,The Midwest Clinic,and the WASBE conferences as well as internationally in the UK, Canada, Japan, Germany, Austria,  Belgium, and Finland.