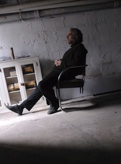 Name: Ira Mowitz
Website: iramowitz.com
State: NJ
Primary Genre(s): Contemporary Classical, Contemporary Choral, Electronics, Film/TV/Games
Audio Sample: Answering Machine Music

Biography: Ira J. Mowitz, composer, perhaps best known for his work with computers and music — in particular his critically acclaimed CD A la Memoire d'un Ami  (New Albion 047) — is by training, temperament and inclination an instrumental composer at heart.  A graduate of Trinity College, Hartt College of Music, Princeton University with additional studies at the Mozarteum, the Wiener Hochschule für Musik, IRCAM in Paris and at Stanford?s CCRMA, he has received grants and commissions from the Guggenheim and Rockefeller Foundations, Fulbright, NASA, the NEA, Ville de Paris, California Arts Council, NJ State Council on the Arts,  Meet the Composer, American Music Center and  Siday, among others.  His music has been performed by the well known contemporary music groups eighth blackbird, California Ear Unit, Present Music, the Brooklyn Philharmonic, at the Spoleto Festival and on NPR's All Things Considered.