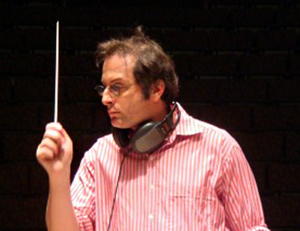 Name: Elliott Goldkind
Website: www.imdb.com/name/nm0002288/#Composer
State: CA
Primary Genre(s): Contemporary Classical, Film/TV/Games
Audio Sample:
Pending
Biography: Elliott Goldkind has composed music for diverse media, ranging from orchestral and chamber music to film, television, and commercials.  Elliott's classical/concert music has been performed throughout the United States and Western Europe. His film scoring work has led to collaborations with Jeff Buckley, David Mamet and many talented young directors.   Elliott received his B.A. from Sarah Lawrence College, studied at Ecole Normale de Musique in Paris and the Hochschule fur Musik in Berlin.  He received his Masters and Doctorate degrees from the University of Wisconsin-Madison. His teachers include Chester Biscardi, Meyer Kupferman, Stephen Dembksi and Joel Naumann. At the UW-Madison, he helped revive the UW-Madison Contemporary Chamber Ensemble, a group that is dedicated to performing the music of Wisconsin students/composers.  Elliott is a MacDowell Colony fellow and the recipient of New York University's Langley Fellowship.