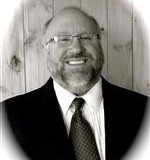 Name: David Rowley
Website: www.inchelium.wednet.edu//Domain/93
State: WA
Primary Genre(s): Contemporary Classical, Contemporary Choral
Audio Sample: 
Biography: David M. Rowley earned a Bachelor of Music degree in Music Education from Central Washington University in 1990.He began his teaching career the same year and has taught for 4 different school districts. He has taught instrumental,choral and general music at all levels K-12. Mr. Rowley earned his Master of Music degree in Music Composition in 2003, also from Central Washington University. Mr. Rowley began composing while still in high school in Auburn, Washington under the direction of Dean Immel, Doug Skerrit, and Fred Strom. He continued composing through his undergraduate years working with Dr. Donald H. White and Robert Panerio, both award-winning composers. When he began his teaching career he found the need and desire to compose for his students. He feels that there is a special need for quality literature in the grade 2 – 4 level for chamber music especially. He has composed several chamber music works, as well as band, choral, orchestral and combined works. Mr. Rowley publishes all of his work through his own publishing company, Under The Microscope Productions, as digital downloads, to make it less expensive and easily accessible to music educators.