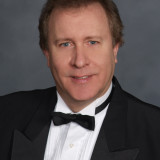 Name: Dan Rager
Website: www.geaugamusic.com/gcwe/ragerbio.htm
State: OH
Primary Genre(s): Contemporary Classical
Audio Sample: Russian Folk Dances

Biography: His accolades include awards from The American Composers Forum, The Continental Harmony Project, ASCAP, The John S. and James L. Knight Foundation, The Rockefeller Foundation, The Target Foundation, The Foundation Orchestra Association (FOA), the Arthur M. Kaplan Award, two Honorary Doctorate Awards from the Saratov Conservatory (Russia) and the Buenos Aires Culture of Education in Argentina.
In addition, Dr. Rager was the first American conductor/composer from Cleveland (OH), invited to conduct and lecture in Russia, which subsequently provides annual tours throughout the region. In 2009, he co-founded the NACUSA (National Association of Composers USA). This Southeast Chapter serves South Carolina, Alabama, Florida and Puerto Rico. In 2013, Professor Rager was the first American wind conductor invited to La Plata, Argentina, to conduct at the Gilardo Gilardi Music Conservatory.
His compositions have been performed and recorded by The Cleveland Orchestra, The Cleveland Chamber Symphony, Frederick Fennell Symphonic Winds, The Washington Winds, The Apollo String Quartet, The Saratov Philharmonic Orchestra of Russia, The State Radio & Television Orchestra of Moscow, The Omsk Academic Symphony Orchestra of Siberia, The Fox Valley Symphony (WI), The Volga Wind Band of Saratov (RU), The Amsterdam Windorchestra, The Marine Band of the Royal Navy (Netherlands), The Norway Marine Home Guard Band, The Conservatory of Music Gilardo Gilardi Winds (AR), The South Korean Philharmonic, Case Western University Symphonic Winds (OH), The Lakeland College Civic Band (OH) and countless orchestras, wind-bands throughout Australia, Canada, Europe,
Japan and Russia.
Professor Rager has over 130 compositions and arrangements published by major publishing companies. His works include symphonies, concertos, divertimentos and a large assortment of works for brass, woodwind, percussion and choral. These works are in a variety of styles from classical, jazz to contemporary tonal and atonal works. Many of his compositions are on state required contest lists'.
His research and international experience has contributed significantly in two recent book publications: 'In Search of the Wind-band', an interactive encyclopedic E-Book which uses text, video, mp3 and pdf files to bring the history and development of the wind-band to life. Secondly, 'Creating & Marketing Your DEMO CD', an important publication designed for today's musician who wants to create, record, market, copyright and perform music.