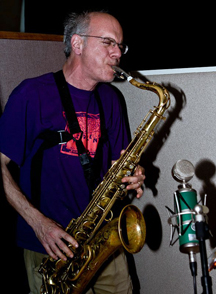 Name: Dan Plonsey
Website: www.plonsey.com
State: CA
Primary Genre(s): Cross-Disciplinary, Jazz
Audio Sample: Pending
Biography: Since 1978, Plonsey has written hundreds of works for large and small ensembles. He has received commissions from: The Jewish Music Festival (Berkeley), Dandelion DanceTheater (Oakland), Real Time Operai (New Hampshire), the Bang on a Can People's Commissioning Fund (New York), Theatre of Yugen (San Francisco), the Museum of Children's Art (Oakland), Milkbar International Film Festival (Oakland), the Berkeley Symphony Children's Concert Series, and New Music Works (Santa Cruz). Most of Plonsey's work has been written without commission, deadline, or any significant outside influence for Daniel Popsicle, his 10-20 person ensemble of unfixed instrumentation. Plonsey terms this work "Music of El Cerrito," as it is impossible to identify by genre. Some pieces are short, such as the 99 pieces of "Color Music" and the 155 "New Monsters;" others are an hour or longer in length, including the Kingdoms Diptych, and the five "Seasons" pieces. Plonsey has also written many pieces for ensembles of multiple (3-13) saxophones; and for chamber opera. He recently began a series of concerti for "guitar and strange ensemble," the first of which being What Leave Behind for Fred Frith and Toychestra. On a much larger scale, Plonsey is focussed on a series of evening-long music/dance/theater pieces. The first of these was the opera "Leave Me Alone!" with libretto by Harvey Pekar (of American Splendor fame), which was premiered at Oberlin College, January, 2009. This was followed by "Dan Plonsey's Bar Mitzvah," a collaboration with Eric Kupers and Dandelion Dancetheater, which was performed at the Contemporary Jewish Museum of San Francisco in July, 2010. Next in this cycle will be "The Geometry Teacher" which is about the many connections between math and music, the Pythagoreans, and about the agonizing everyday complexity of teaching.