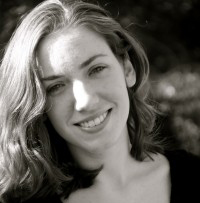 Name: Dale Trumbore
Website: www.daletrumbore.com
State: CA
Primary Genre(s): Contemporary Classical, Contemporary Choral
Audio Sample:
10,000 Hours

Biography: The music of composer Dale Trumbore, hailed by the New York Times for its "soaring melodies and beguiling harmonies," has been performed by ensembles including the Kronos Quartet, ACME, and the USC Thornton Symphony. Organizations including the American Choral Directors Association (ACDA) and the Millburn High School Miller Chorus & Symphony Orchestra have commissioned new works from Trumbore, and she has been awarded composition prizes from Chanticleer, Center City Opera Theater, Lyrica Chamber Music, the National Federation of Music Clubs and WomenSing. Trumbore has also been awarded the American Composers Forum Subito  grant and the Artist in Residence Grant at the Helene Wurlitzer Foundation of New Mexico.