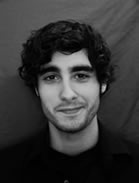 Name: Costantinos Dafnis
Website: www.CostasDafnis.com
State: LA
Primary Genre(s): Contemporary Classical, Contemporary Choral
Audio Sample: Pending
Biography: Costas has been awarded by New Music USA, the American Prize in Composition, the National Band Association Young Composer Mentor Project, and International Music Prize. Costas has received commissions from ensembles and organizations including the Guam Symphony Society, Voces Capituli, Escaped Images Dance Company, Ohio Northern University, and the Michigan State Honors Choir. Costas is a founding member of Noisi Paintr, a collaborative group of three composers with similar goals of progressive sound. When not composing, Costas spends his time playing mandolin poorly and burying himself in all of the strange, obscure poetry he pretends to like.