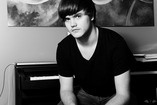 Name: Brian Erickson
Website: www.brianericksonmusic.com
State: MN
Primary Genre(s): Contemporary Classical, Contemporary Choral, Electronics
Audio Sample:
Pending
Biography: Brian Erickson is a composer of contemporary classical music. Originally from St. Paul, Minnesota, he received his Bachelors in Music Composition from Berklee College of Music. His works have been performed throughout the United States and Europe.