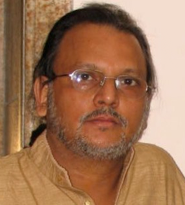 Name: Binay Pathak
Website: www.sohinisangeet.org
State: NY
Primary Genre(s): Contemporary Classical, Cross-Disciplinary, Film/TV/Games, Jazz
Audio Sample: Pending
Biography: The Pathak Gharana is an illustrious family of Dhrupad singers, Sitar and Surbahar players, one of the important and respected musical families of India. Pathak Gharana is mentioned in all Hindi works relating to the History of Indian Classical Music or Biographies of Classical Musicians such as Hamare Sangeet Ratna, by L. N. Garg and Bharatiya Sangeet Kosh, by V. R. Chaudhury.   Pt. Binay Pathak presents North Indian Classical music concerts and teaches the traditional culture and Classical music of India: Vocal, Sitar, Tabla, Harmonium. Concerts, commissions and workshops are given in community programs, festivals, schools, colleges, and temples.