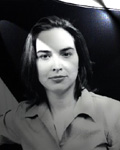 Name: Belinda Reynolds
Website: www.belindareynolds.com
State: CA
Primary Genre(s): Contemporary Classical
Audio Sample: Crossings

Biography: Belinda Reynolds is an active composer, organizer and teacher with a singular passion for bringing new music to a variety of audiences and communities. Her music has been performed in dozens of countries around the world by such groups as The New Millennium Ensemble, US Army's Brass Ensemble, Cecilia Quartet and Da Capo Players, and featured in such venues as Lincoln Center's Great Performer  Series and Weil Recital Hall at Carnegie Hall.   Ms. Reynolds completed her Doctorate at Yale University and received her M.A. and B.A. from the University of California at Berkeley. She is Vice President of the composers' collective Common Sense and runs San Francisco-based HeShe Music, a private studio teaching composition, piano, theory and musicianship to beginners and professionals, many of whom have matriculated to successful careers in music.