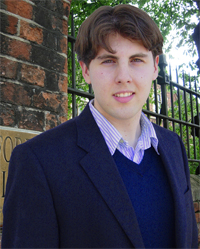 Name: Andrew Watts
Website: www.andrewawatts.com
State: PA
Primary Genre(s): Contemporary Classical, Contemporary Choral, Electronics
Audio Sample:
Pending
Biography: Andrew Watts' (b. 1989) works, from chamber and symphonic music to film scores and electro-acoustic, are performed throughout the US and Europe. His compositions have been premiered at world-renowned venues such as Ravinia, the summer home of the Chicago Symphony Orchestra; the Museum of Fine Arts, Boston; the New England Conservatory's Jordan Hall; and the Holywell Music Room, the oldest custom-built concert hall in Europe. In the past year Mr. Watts has written works for a number of top musicians and ensembles including Chicago's Fifth House Ensemble, ALEA III in residence at Boston University, and the East Coast Contemporary Ensemble (ECCE). He has most recently finished Linguicide, a large-scale work for chorus and laptop orchestra to be premiered this June.