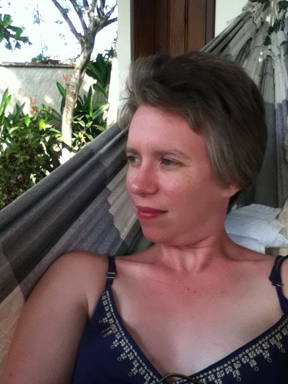 Name: Alexis Bacon
Website: www.alexisbacon.com
State: IN
Primary Genre(s): Contemporary Classical, Cross-Disciplinary, Electronics
Audio Sample:
Samba

Biography: Alexis Bacon is a violist and composer of electroacoustic and acoustic music. Dr. Bacon received her Bachelor's degree in viola performance and music composition from Rice University in 1998, and subsequently received a Fulbright grant to study music composition in Paris with Betsy Jolas. She then attended the University of Michigan, where she earned her doctorate in music composition in 2007. She has been the recipient of numerous prizes and awards, including the 2010 Ossia International Composition Prize. Her work "Cradle," for alto saxophone and tape, was the first place recipient of the 2007 ASCAP/SEAMUS student composition commission, for which she wrote "Cowboy Song" for percussion and tape. Other recent performances of her music have included the New York City Electroacoustic Music Festival, the Western Illinois New Music Festival, the Florida State University New Music Festival and Electronic Music Midwest. Additionally, Alexis Bacon has received grants from ASCAP, the Indiana Arts Council, and the American Music Center. During the summers she serves as Instructor of Music Theory and Electronic Music at Interlochen Arts Camp. Her composition teachers have included William Bolcom, Michael Daugherty, Susan Botti, and Evan Chambers. Alexis Bacon has taught at West Texas A&M University and Indiana State University.